SPA AND WELLNESS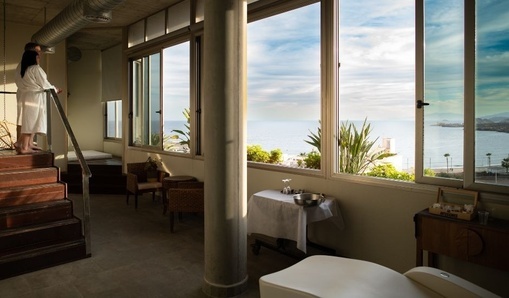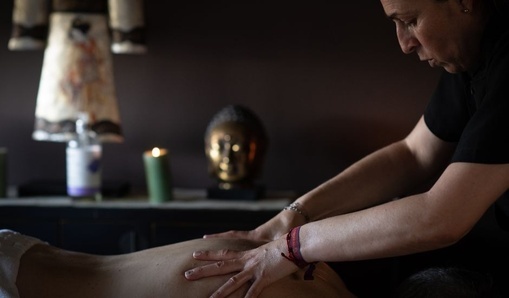 SPAXION DON JUAN.
Hotel Puerto Juan Montiel puts at your disposal the Spaxión Don Juan spa where you can relax and enjoy some pleasant days of rest, being one of the hotels with a Spa in Murcia with some of the best views of the Mediterranean and the Bay of Poniente de Águilas.
Don Juan Spa in Águilas / Spaxión Don Juan Águilas is located on the 6th floor of the Hotel Puerto Juan Montiel, providing its clients with a harmonious space where it is possible to take care of the body and mind.
Since ancient times, the healthy properties of water for people have been known and the benefits of its application as the basis of various curative and preventive treatments. Today, our hotel with a spa offers you the possibility of continuing to enjoy all the benefits of water through luxurious facilities and professional and personalized attention.
Check the updated opening hours by contacting the hotel or spa directly. To arrange a time for spa treatments, you must contact the spa directly. If you do not do so, you will be assigned a predetermined schedule.
FITNESS & WELLNESS.
In addition to the wonderful Don Juan Spa, Hotel Puerto Juan Montiel offers the possibility of practicing other disciplines such as Yoga, Bio dance, Tai chi, martial arts... (Check availability).

MEDITERRANEAN AQUA PRIVATE SPA

Enjoy our PRIVATE AQUA MEDITERRANEAN SPA at Spa Don Juan: 55 minutes long, with the option of being able to reserve it privately for you and whoever you want. We recommend that you contact us directly before booking to check the available services.
PRIVATE AQUA MEDITERRANEAN SPA
Discover our private spa Aqua Mediterránea at Spa Don Juan. A unique space, with spectacular views of the Águilas coast, in a combination of seasons to relax body and soul. Enter "What's Included" and don't lose detail.
PRIVATE AQUA MEDITERRANEAN SPA
Private SPA Aqua Mediterranea at Spa Don Juan
We present Aqua Mediterránea, a new SPA concept, unique in the region, with the best views over the sea where you can enjoy our holistic and sensory proposal.
Let yourself be carried away by the Mediterranean essences, the colors from blue to the intense red of our sky, a moment to enjoy with your partner, family or friends. (we admit children from 6 years).
The Aqua Mediterránea private spa at Spa Don Juan, at Hotel Puerto Juan Montiel is a space designed to balance body and mind, where you will enjoy all the SALUTE PER AQUA benefits, jacuzzi, sauna, steam bath, ice fountain, essence shower and peeling with chromotherapy, sun loungers facing the sea, a relaxing bed in our "Mirador de Poniente" enjoying one of our relaxing infusions.
In addition, we offer you the option of completing your experience by adding accessories such as: essential rituals with aromatic oils, rhythmic and relaxing massages, facial or body treatments, all of them individual or in our special duo room for couples, as well as cava, chocolates... ( consult supplement).
You deserve to be taken care of and pampered, treat yourself and do not miss the opportunity to live a different experience, in the new private spa Aqua Mediterránea, in Spa Don Juan, at Hotel Puerto Juan Montiel.
MASSAGES
Relieve your discomfort, fatigue, with our relaxing massages: facials: facials, legs, back, body... It is not necessary to be staying to enjoy the services of Spa Don Juan.
MASSAGES
Relaxing massage - Path of aromas
Based on calming notes (lavender, sandalwood, patchouli, violet and ylang-lang)
It helps the mind to regulate anxiety and the body to control stress, achieving a good state of relaxation.
55 minutes / €69
Zonal harmony massage
Let yourself be carried away by the aromatic essences and choose your treatment area of the body, craniofacial, legs, feet or back.
30 minutes / €45
serene light massage
Go through the doors of relaxation with our incredible relaxing massage performed with a candle. The essence of Karité, cinnamon sliding over your skin.
Unique sensations that will leave your skin deeply hydrated and silky.
60 minutes / €75
massage with pindas
Neurosedative wellness massage with sachets of aromatic herbs and essential oils, heated by steam. Detoxifying effect on the skin and the body, relaxing, anti-stress, anti-inflammatory and moisturizing.
60 minutes / €69
Anti-cellulite massage
30 minutes / €45
Lymphatic drainage massage
30 minutes / €45
deep massage
30 minutes / €50 or 50 minutes / €75
FACIAL TREAT.
The face is the reflection of our interior, and for this reason it deserves all your attention and ours... We offer you all the treatments you need to take care of it as it deserves, at Spa Don Juan..
FACIAL TREATMENTS
pure vitamin
Revolutionary treatment with an immediate flash effect, which counteracts the negative effects that trigger premature aging of the skin. The skin immediately recovers a spectacular youth, appearing luminous, smooth and desinficated.
55 minutes / €69
Hydracure
Intense and long-lasting hydration. Maximum hydration concentrated in an advanced treatment, ideal for all skin types and especially for those that present symptoms of dehydration: lack of comfort, tight, dull skin.
5 minutes / €65
Skin Zen
Free your skin from emotional stress and daily fatigue. Ideal treatment for skin with great sensitivity to emotions based on extracts of roses and plants. White rose, polar rose, black rose, Nepal rose, Gallic rose, Indian tulsi and Hydro-protective complex, they hydrate and soothe extraordinarily.
60 minutes / €59
Global On Anti-aging
The best illuminating, anti-aging, anti-wrinkle treatment on the market. In a single session highly contrasted results, anti-aging flash cure...
Sublime and multisensory, it offers an effective response thanks to its powerful and innovative active ingredients, crucial for restoring, recovering, and filling the contours of the face.
80 minutes / €89
Treatment specially designed for men. Energizing and detoxifying that combats the effects of skin fatigue.
Pure and facial oxygenation
Facial treatment for cleansing and oxygenation of the skin. Includes extraction. Ideal for preparing the skin, freeing it from impurities, before starting a treatment process.
55 minutes / €59
CORPORAL TREAT.
All kinds of treatments for your body. You have multiple options! Enter and meet them all.
BODY TREATMENTS
Vit C+ Supreme
Firming treatment with high nutritional power that brings a new youth to the skin.
Through an exclusive exfoliation with orange peel particles together with a creamy wrap that covers the skin in delicate luminous micropigments. Includes exfoliation, wrap and body hydration.
75 minutes / €79
after sun
Immerse your skin in an ocean of freshness that helps to "reconcile" excess sun with deep hydration. Includes wrap and body hydration.
35 minutes / €39.
exotic mediterranean
Inspired by the most exotic Mediterranean, Morocco, Tunisia, Egypt, Istanbul... Therapy that is a true delight due to the aromas and textures of argan peel, olive seeds, grape seeds, orange water... A truly exciting moment. Includes exfoliation.
35 minutes / €39
BEAUTY
You deserve to take care of yourself and we want to make it easy for you. Get to know all the beauty treatments at Spa Don Juan: waxing, nails, makeup and much more.
AESTHETICS
MANICURE AND PEDICURE
Manicure
Rediscover your hands. Intense anti-aging hand treatment.
Pedicure
Feel your feet soft and silky.
45 minutes / € 50
Hair removal
Ask at the hotel reception for our hair removal services.
Price according to zone.